South Barwon Little League 1971
It seems such a long time ago. Fifty years next year actually, but my mind often strays back to those golden little league days when all that mattered was an hour or so on a Saturday morning.
I was only eight (a baby really) when my world changed. A man knocked on the classroom door one drowsy afternoon and asked if there was anyone interested in playing little league football. Several of us put up our hands. He read out a phone number and told us to to have our parents ring it.
Little league football! I could hardly contain myself. It's fair to say that I literally lived and breathed football at that time. My wall was adorned with pictures of Collingwood stars. I collected all the Scanlans chewing gum cards that I could. Match broadcasts on Saturdays could not be missed and I devoured all the footy replays in the evening. There was very little competition fo a boy's attention in those days. We all played footy during lunch times on a gravelled patch of dirt at St Bernards. After school I'd just about beheaded every plant in my parent's backyard after with attempted sizzling Barry Price like stab passes that were more like mongrel finger breakers. To play a real game with real teams wearing real uniforms umpired by a real umpire was simply too good to be true.
My first little league game
I raced home and pestered my parents to make the call. Eventually, probably in the interests of some peace and quiet, my father did so. It was all arranged in minutes. I was allocated to a team called the Koalas. There was a practice game scheduled at Winter's Reserve that Saturday. I just about wet my pants with excitement.
One of my mates was allocated to the Leopards, another found himself in the Bears. When I told them I was in the Koalas, they laughed. They said I'd been chosen for the team wth the weakest sounding name. I didn't care. I was going to play in a real game. It wouldn't have mattered if we were called the sissies, I was going to play.
The big day came and I found that everyone else knew each other. Two kids from my school were there – Daryl Cunningham and Pierre Belluzzo. So, I wasn't totally alone but they got picked in defence while I was placed in a forward pocket by the coach, Mr Warren.
The game started. Much of it was centred around the middle of the ground for long periods until it surged in my general direction, only to be collected by one of the senior players and punted through the goals. Finally, the ball was kicked out of a pack and basically landed on top of me. I juggled it and held on to the mark within kicking distance (must have been all of fifteen metres). It was a straightforward kick, even for an eight year old and I managed to score full points. There were a few slaps on the back and a couple of kids even remembered my name. I belonged.
One mark, one kick, one goal.
It's hardly the stuff of legends. Somehow, it made all the difference. The captain, a kid with the nickname of "Gutsy," congratulated me on the mark and when I went to training on the Wednesday all the kids knew who I was. I didn't feel special – just accepted and that was enough.
It turned out that we had a pretty good team. We won more games than we lost. However, a couple of teams had our measure. The Lions in particular seemed far bigger than us and beat us comfortably.
As the season went on, I found myself in the starting eighteen most weeks playing on a wing. Although, it has to be said that positions in little league are abstract concepts Sometimes I was rested at half time, other days played the full game. I understood why. There were twenty four of us. I was one of the younger players. It just made sense. It was a simple lesson in sharing and putting the team first.
The coach's message
We were a good team. We weren't outstanding, but we had a fleet of smaller players who could play a bit. Besides Ross"Gutsy"Gear, there was another dozen or so smaller kids who could "win their own ball" in todays language. A few of the older boys were good enough to compete against bigger kids. That was it. We had no go to forward who would kick a couple of goals. There was no bulldozing pitbull to break packs. Ultimately we had no point of difference other than the coach.
I recently asked my father about "Carney" Warren. Dad knew him from his Queenscliffe days and while they could never be described as close, Carney and my father seemed to respect and like each other. Dad's reminisces were almost envious. "Everything he touched turned to gold, " he remembered. "He had the unique ability of knowing what everyone's strengths were and getting the best out of them." I get the feeling Dad wasn't just talking about little league footballers. His words rang true all the same.
I can't remember anything that Carney said other then
"Run straight at the ball"
"Get in first and you won't get hurt"
"Punch from behind"
"Pick up your man when they've got the ball"
They are all pretty stock standard phrases for a little league coach. What made him special though, was his attitude. We all mattered. From Gutsy Gear right down to the new kid in the team. Together we were strong. We had to look after our mates and share the ball. Ultimately, we were only as good as our weakest link and our weakest link had to belong and be part of it. Noone got criticised. Do better next time. Keep going. Don't give up.
Many years later, I had the privilige of caoching junior kids in hockey. I knew nothing about hockey, but I knew all I needed to know about coaching kids, because Carney Warren showed me how. I'm indebted to him for that among many other things.
The pointy end of the season
We were not sure things to make the finals. To finish fourth we had to beat the Bears in the last match of the season. We won easily. So, we were in.
I'm not sure who we played in the first semi or the preliminary. We would have been underdogs in both games. Ross Gear tells me that we had to get past the Leopards who we hadn't beaten. I think the other team may have been the Giants but I honestly don't remember anything about those games.
Somehow, we won through and had to face off against the unbeaten Lions who had comprehensively beaten us twice during the season.
I never thought we were going to lose.
I don't know if that was the innocent hopeful wide eyed child within me or the sense of confidence that our coach had instilled in us.
Snatches of the game itself are still crystal clear in my memory. We trailed at half time but were in it up to our eyeballs. Ross Creighton and Daryl Coomber kicked goals in the third quarter to put us in front. The Lions were struggling to score. The sense of belief in the huddle at three quarter time was palpable. The excitement among the parents obvious. We could do this.
The last quarter was frantic. I'm sure that the Lions panicked. They were meant to win. We had nothing to lose. The ball transitioned between our half back line and the eastern wing for most of the quarter. Our half back line was impenetrable. The quarter seemed to go for hours. Late in the game I won a free kick at half back. We were still a point up. I looked out to the Eastern wing and had this moment of doubt. "If I kick it out there it will just come back." Brendan Malone led out to the opposite wing followed by two opponents. I trusted Brendan. If I could make the kick, we would be away.
I missed him by a long way. the ball landed between him and the two Lions players. My heart sank. Brendan lunged at the ball and made a contest. The three players fought desperately for posession while, players ran from everywhere to assist. The umpire called a ball up and disaster was averted.
The siren sounded a minute later.
There were better players than Brendan that day, but I'm pretty sure that that one desperate act won us the game.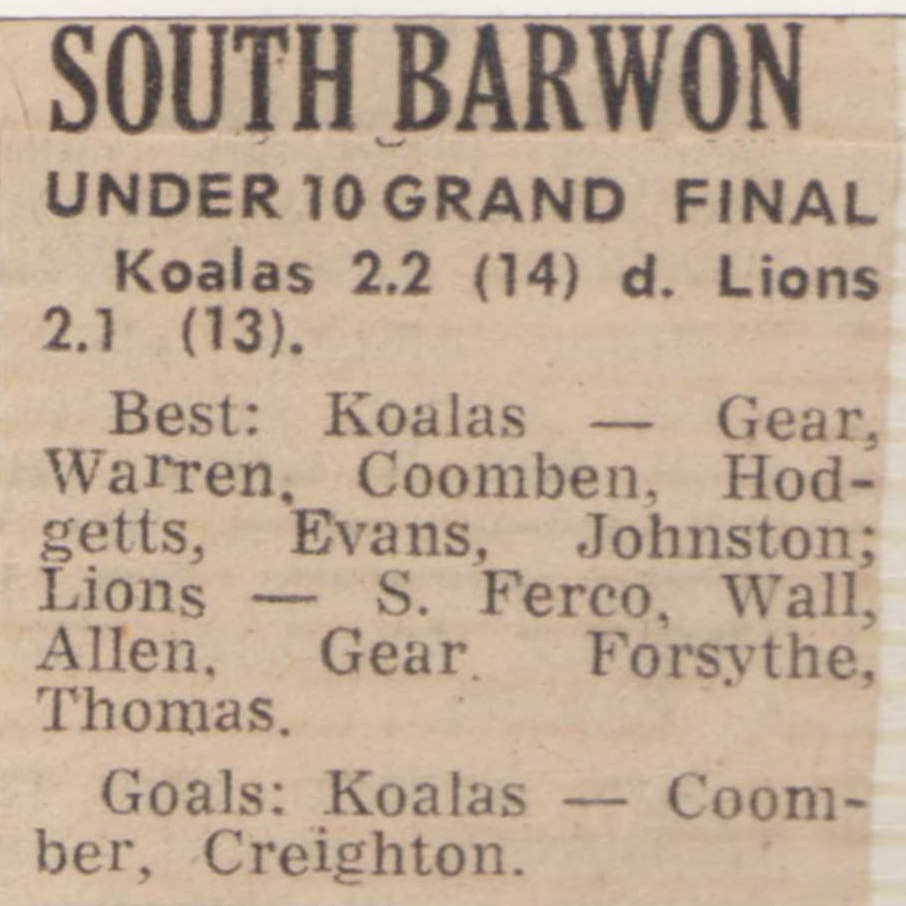 Pandemonium
The feeling afterwards was indescribable. We'd managed to come from fourth and beat the unbeaten team. The players were pretty excited but its the parents I remember most. I think they undersood more than us what we'd done. Someone lifted me up on their shoulders. I don't know why. I'd nearly lost us the game.
People were shaking Carney Warren's hand. There was lots of back slapping, laughter, cheering. It was magical. A miracle that could never be repeated, even though the core goup with the addition of some bigger players would go on to win another premiership in Under Twelves. This group was special. we did the impossible.
I spoke to Ross Gear recently. His memories of that last quarter are similar to mine. Desperation, tension, rolling packs, kicking to space. He remembers too that we weren't meant to win that game and thinks that our achievement deserves to be celebrated.
Reflections
We were just a bunch of kids chasing our dreams around a patch of dirt. Anything was possible. We played our little hearts out and we played for each other. Little league football was a little slice of heaven, where we learned the values of team work, loyalty and courage. Football is and always has been more than a game. It's a right of passage for young men in this part of the world. The values you learn can take you a long way in life, particularly if you're taught by the right person.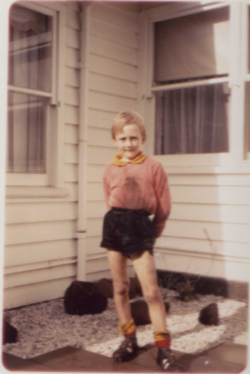 Sadly, I lost my love for playing the game a couple of years after little league ended. I should have followed my brothers into the teams they went into. That's what they were – my brothers in arms every Saturday morning. I still remember names, faces, goals kicked and big torpedo barrels from Pierre Belluzzo. Most of all though I remember Carney Warren, his infectious smile, his unbridled enthusiasum for the team and the sense of belief that he fostered within us.
Here's to you Koalas. It's time we celebrated what we did.
Thank you for taking the time to read this article. I am a full time writer with interests in politics, music, people and where this world is headed. If you liked this short article I'd be grateful if you shared it on Facebook, Twitter or any other platform that you hang out on.
Any comments on the subjects I write about or my writing are gratefully accepted.
If you would like to support the work I do in this area you can do so by leaving feedback, following me on Twitter, Medium or Steemit or alternatively funding my independence by becoming a patron or making a crypto donation
[crypto-donation-box]

Thank you for reading. I'd appreciate it if you If you enjoyed this please share, like or comment as appropriate
You can grab a free sample of my story writing by subscribing to my story lover's list .